Greater capacities
Hygienic, fireproof and robust evaporation material with exceptional water absorption properties for continuous humidification
Multiplatform controller with LCD
Stainless steel water distributors, easy to clean and remove. Water supply via circulation pump or direct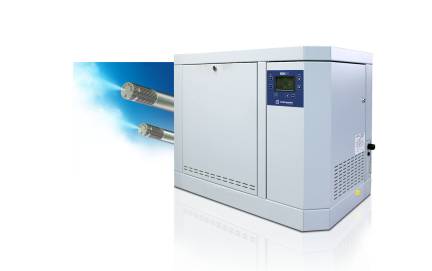 Water lubricated Dfoss pump technology
Customization by Humidisoft software. It selects the optimal dimensions for each section. Result: energy savings through minimal pressure drop and compact design
PWM zone control
Modern Controller with display in stainless steel housing. Multistage and modulating capacity control possible
SKH high pressure atomization
Atomization is a general term for humidifying, cooling or cleaning the air by introducing water in a mist, mist or vapor form. This can be done with various methods:
– Compressed air and water mixing
– High water pressure via nozzles (50-110Bar) (SKH)
– Low water pressure via nozzles(6-8Bar) (ENERGY MIST)
The main advantages are the low energy consumption and the adaptability to different situations. Combinations of directly in the room in several zones or several AHUs are possible with 1 central pump set. The SKH is often used for larger capacities and industrial applications.   
The mists are considerably smaller at high pressure than at higher pressure. This is the biggest difference. The choice is often determined by the available intake lengths in air ducts or the available free height of the room.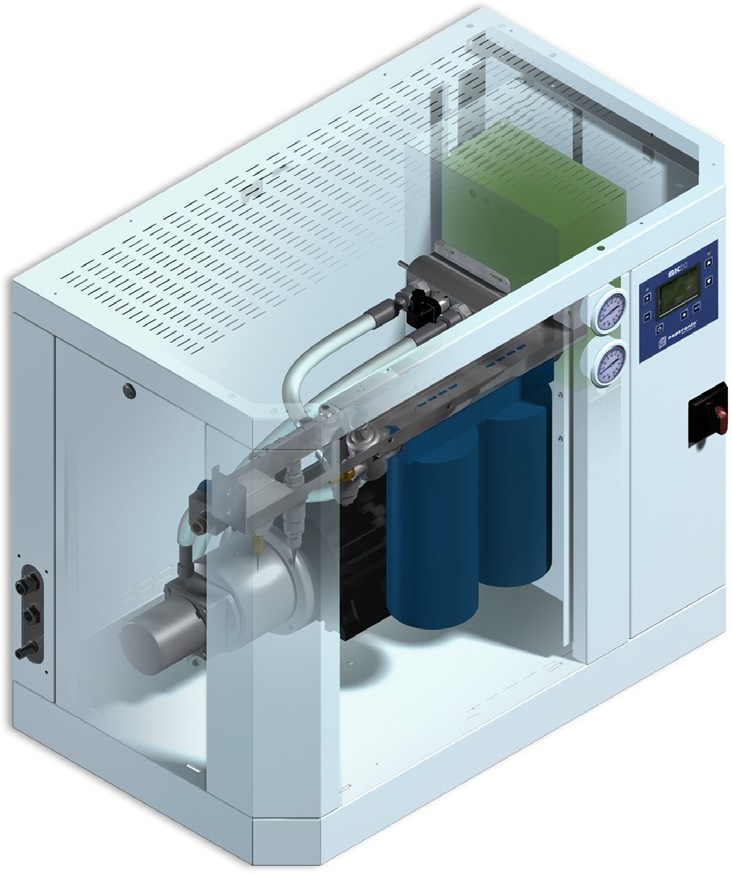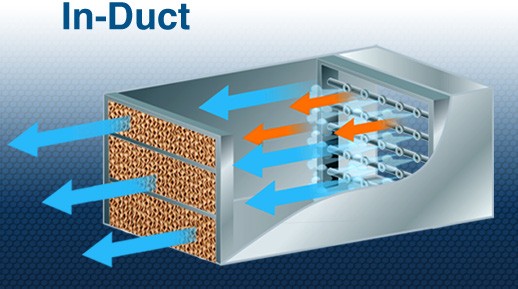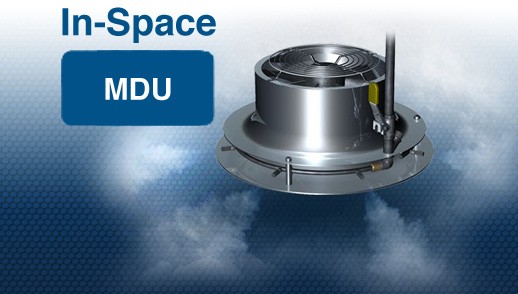 Increasing the water pressure only requires 5W per liter of water. This is 93% less than an electric steam humidifier. This makes the SKH one of the most economical humidifiers with the additional advantage of the adiabatic cooling effect. It is therefore possible to cool in summer as well as humidify in winter with 1 pump station.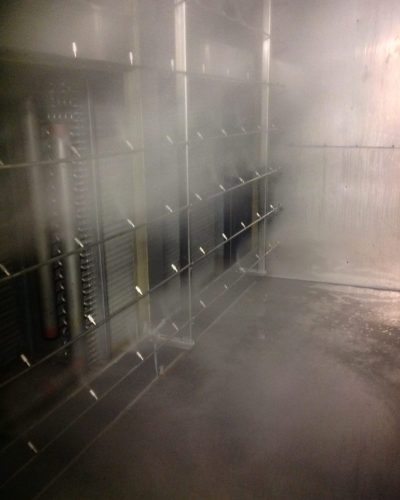 The SKH is applied to all kinds of applications such as offices, hatcheries, landfills, textile factories, cardboard or paper industry. We offer many options for distributing the moisture. Moisture distribution is possible in ducts or directly in the room with or without a fan. We always use stainless steel Anti-drip nozzles. The multi-zone control makes a great diversity of distribution stations possible from 1 pumping station. The capacity is variable between 20 to 1200l/h per pump.
The distribution takes place via custom nozzle racks or rings, so that optimal distribution is achieved with maximum efficiency. Simple and fast mounting of the stainless steel rack due to reliable compression fittings.

 
The Danfoss Nessie pump delivers a constant pressure at a widely varying flow rate. Frequency control is standard.
Flow range: 20 – 1200 l/h
Pressure range: 35-110 bar
Up to 32 zones possible
Master – Slave setup up to 4 pump stations possible
4 step control including 1 proportional step for precise control up to +/- 1rV%
Connection to each zone through a computer to monitor and view
BACnet MS/TP @ 9600, 19200, 38400 or 76800 bps


Very low cost of ownership
The choice of quality components from Danfoss, both the Nessie pump and the valves and coils, means that the SKH requires minimal maintenance. The maintenance costs are therefore very low. Pump maintenance only

every 12,000 hours.

Valves service poorly after more than 1 million cycles. Because the pump has a large reach, minimal water is washed away, while safety is guaranteed.

Proven reliable and safe cooling and humidification with SKH.
Do you have questions? We are happy to help you!