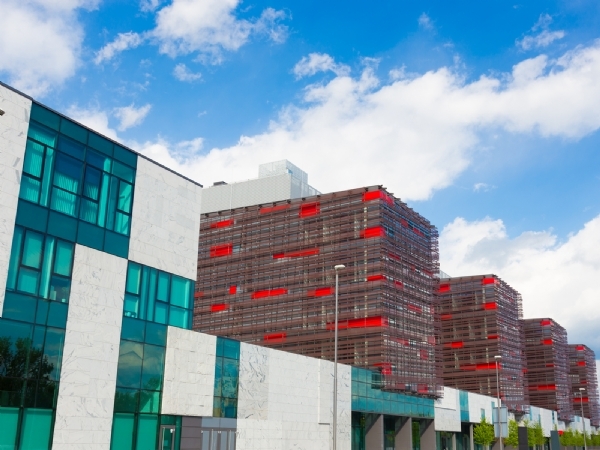 Office buildings
For an optimal and healthy working climate, a minimum of 40% relative humidity is a must!
For an optimal and healthy working climate, the use of humidifiers is necessary. The office is the place where we stay for a long time and if the air is too dry, we experience a lot of inconvenience. In general, these discomforts and health problems are not associated with a low relative humidity of the air.
Healthy employees, less absenteeism
Dry air can cause headaches, skin problems, increased susceptibility to colds, a sore, dry throat and sore eyes. The eyes are sensitive to low humidity when the thin film of moisture on the cornea evaporates. Contact lens wearers experience discomfort by a factor of 5 when the relative humidity drops below 40%rV. Dust and dirt stick to the moister lenses, causing a higher irritation. 
By using humidifiers, the humidity remains between 50 -60%, so that employees feel more comfortable, can work better and get sick less often. 


It has been proven that productivity increases when employees are in a pleasant environment, where the air conditions are also optimal. These conditions are different in winter than in summer. That is why it is important to have optimal air conditions in winter when other factors (such as reduced sunlight) are not optimal. An important part is the correct relative humidity between 40-60%. It protects us against viruses and airborne dust and thus we are better able to function with minimal absenteeism.  

Energy savings due to lower ambient temperature
A climate with the right rV% is experienced as pleasant at a lower temperature, without complaints of cold hands, dry eyes and electrostatic discharges. This is prevented if the relative humidity in a room is 40% or higher. This saves energy. An additional advantage is that office equipment, such as laptops, printers, etc., function optimally for longer and need to be replaced less quickly due to the use of air humidification equipment.  

We offer custom solutions
For offices, Aire Fresh Systems has several tailor-made solutions, depending on the space that needs to be humidified or cooled. 
In order to keep the relative humidity at a desired level, it is necessary to artificially add water to the air by using a humidifier, which is linked to the air treatment or air conditioning of the classroom or building. These products are suitable for use in office buildings:
SKE – The reliable low TCO humidifier
SKV – The safe and economical, adiabatic humidifier for installation in ventilation systems
HomeEvap –The compact, economical humidifier for departments in a building. Easy to combine with satellite systems or fan coils. Installed invisibly above the ceiling. 
With almost 30 years of experience in the humidification of office spaces and buildings, we offer a suitable solution for every challenge. We advise and supply our products in accordance with applicable legislation and standards. We are happy to advise you on all aspects of humidification in the office.