Ziekenhuizen & Zorginstellingen
Good air quality in hospitals and healthcare institutions is vital
Good air quality in hospitals and healthcare institutions is vital, it contributes to a rapid recovery of patients and ensures a comfortable and healthy workplace for staff. The different rooms in a hospital require a different custom humidification solution. Depending on the function of the room or building, the choice of humidification type is determined.
Reduces spread of viruses
Dry air, with a humidity lower than 40%, can cause headaches, sore eyes, a dry throat, an irritated nose and skin problems. In addition, a cold regularly crops up in a hospital or healthcare institution because of the dry air, causing germs to float.
Research shows that an optimal humidity level between 50-60%rV inhibits the spread of viruses, allowing patients to recover faster. Employees function better and run less risk of getting sick.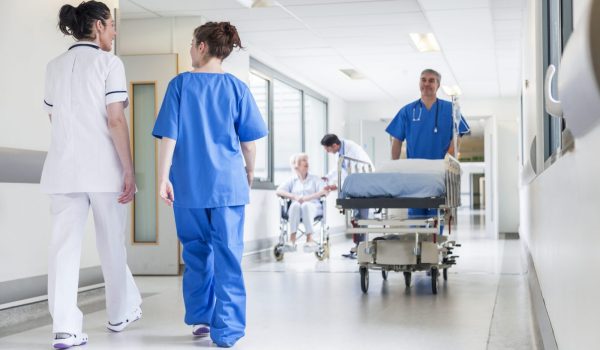 Dry air draws moisture from all possible sources in the room, including the membranes in the nose and throat, which are designed to protect us from infection. Moisture will also be drawn from any exposed body tissue during surgery. This causes premature drying of the wound and the formation of a scab. This occurs in hospital rooms as well as in care institutions, which is not beneficial for residents with their frail condition.
It is important to maintain humidity levels in maternity and obstetric wards at all times, as babies, in particular, are sensitive to dry air.
A low relative humidity also has a negative effect on the condition of patients with respiratory problems (COPD) and complaints such as asthma.

Eliminates static build-up
The effect of electrostatic discharges, caused by a relative humidity lower than 45%rV, should be avoided in an operating room or treatment room. Because these shocks are potentially harmful and have dangerous consequences during surgery.

We offer custom solutions
Every room in a hospital or healthcare institution requires a different custom solution that keeps the relative humidity at a desired level. Aire Fresh Systems can provide this with several custom solutions.
IC and operating rooms
Steam humidification is very popular in hospitals, as the moisture supplied 100% is sterile and very controllable. Steam is used because there is often a central steam boiler for sterilization purposes. We only supply steam humidifiers with optimum security and the lowest cost of ownership. For this, our units are equipped with a patented energy-efficient 3-way level control with backup, so that acute malfunctions are a thing of the past; a durable stainless steel tank that can be cleaned without tools and the option of remote monitoring.

Other areas in healthcare institutions

Almost 30 years of experience
Aire Fresh Systems offers energy-efficient humidifiers that meet legal requirements such as ISSO 55.3, VDI 6022 and NEN2010. This is the minimum base. We only design and supply equipment that is safe for users and technicians. An important part of this is the correct water treatment and the integrated safety features such as a water drain and flushing function when the humidifiers are not in use.
With almost 30 years of experience in humidification of hospitals and healthcare institutions, we offer a suitable solution for every challenge. We are happy to advise you on all aspects of humidification in hospitals and healthcare institutions.